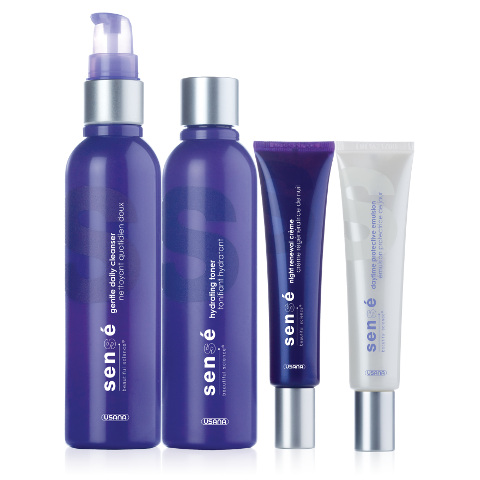 Sensé Basic Pack
Sense Personal Care
This pack includes: Gentle Daily Cleanser, Hydrating Toner, Daytime Protective Emulsion, Night Renewal Crème.
Value
$120.95
Discount
10%
You Save
$11
---
SKU :
351
Availability :
In Stock
Currency :
Prices are in Canadian Dollars (CAD).
Shipping :
Usually ships within 24hrs.
Delivery within 3 to 5 business days.
The Sensé difference
Dedicated to those looking to enhance their health and beauty, USANA has created Sensé beautiful science®, a comprehensive approach to skin care. Each product is developed with groundbreaking, patented Self-Preserving Technology, meaning they stay fresh naturally. With regular use, skin is visibly transformed.
Made from the purest natural botanical extracts and topical nutrition complexes, Sensé is formulated to revitalize individual cells—where healthy skin begins. When cells are properly nourished and protected, you can expect beautiful results.
Gentle Daily Cleanser
This mild, soap-free formula washes away surface dirt and impurities without drying or irritating the skin. Enhanced with green-tea extract, Gentle Daily Cleanser soothes and moisturizes with aloe and clary sage.
Hydrating Toner
Wipe away lingering surface impurities after cleansing and restore skin's pH balance with this gentle revitalizing toner. The gotu kola and coneflower in Hydrating Toner refine and brighten skin's appearance while green-tea and whole-grape extracts help combat the effects of daily stress.
Daytime Protective Emulsion
Restore moisture and support the skin's natural renewal process with this lightweight moisturizer enriched with light-activated Regenisomes™. Many natural plant extracts boost Daytime Protective Emulsion's benefits: aloe delivers concentrated moisture, plankton guards against the drying effects of the sun, gotu kola and coneflower help skin look firmer, and Irish moss softens the skin.
Night Renewal Crème
Wake up to younger looking skin with this hydrating overnight crème. DSR™ Technology and penetrating Regenisomes™ help combat the signs of aging and visibly refine the skin. Whole-grape and green-tea extracts help combat the effects of daily stress. Rich in vitamin E, Night Renewal Crème brightens the complexion with coneflower and gotu kola and softens the skin with Irish moss and shea butter.
About USANA Health Sciences
---
Complementary USANA products